Search Results

AUD $ 285
PRODUCT IS FOR SALE
CONDITION: PERFECT
LOCATION: QLD

Replacement STAINLESS STEEL barrel to fit a "Bentley" .308 Win. (7.62 NATO) carbine. 17 1/2" long.
There are quite a few of these little rifles out there, bought cheap and not looked after very much.
This barrel is in PERFECT condition inside and out and is an exact copy of an original barrel. Final fitting and headspacing needs to b





AUD $ 2300
PRODUCT IS FOR SALE
CONDITION: EXCELLENT
LOCATION: QLD

PRICE DROPPED TO $2300
Great condition fired only 5-600 rounds. Excess to requirements. Very nice semi auto shotgun. Cat C/D





NZD $ 219
PRODUCT IS FOR SALE
CONDITION: NEW
LOCATION: New Zealand

Republic Arms Ltd are pleased to present to you our in-house brand of scopes called Savannah .
Made in the same factory as other high profile brands such as Bushnell , Simmons , BSA , etc . The scopes offer excellent features at an extremely low price compared to others of a similar quality .
Features include-
Exceptionally





AUD $ 710
PRODUCT IS FOR SALE
CONDITION: EXCELLENT
LOCATION: NSW

Ex-Bundeswehr German arsenal refurbished ( replacement slide with arsenal matched number fitted) postwar Walther P1.EXC condition, govt arsenal refurbished, kept in long term storage until surplused. Comes with mil camo holster and spare mag.
VM: 0432100363
Postage not included.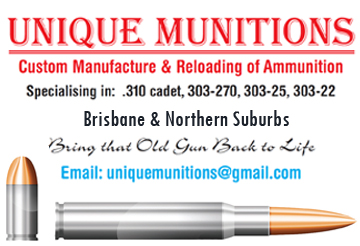 AUD $ 130
PRODUCT IS FOR SALE
CONDITION: GOOD
LOCATION: QLD

| | |
| --- | --- |
| Stirling carbine + additional shortened / youth stock, handy little rifle, 10 shot mag with original Nikko Stirling 4x28 scope with see through mounts, giod bore and bluing, marks on stock | |


AUD $ 1800
PRODUCT IS FOR SALE
CONDITION: EXCELLENT
LOCATION: NSW

| | |
| --- | --- |
| This Sako 85 Hunter Laminated Stainless Steel rifle is chambered in .260 REM and is in excellent condition. It comes with 30mm rings mounted and would suit a new rifle buyer for a great price. Plus postage costs to your Dealer. | |


AUD $ 795
PRODUCT IS FOR SALE
CONDITION: VERY GOOD
LOCATION: QLD

When inquiring about this second hand firearm please send licence number and state which you are in.
Buyer Must have Cat H Post 1947 collectors licence or dealers license or security company licence to purchase this firearm.
This firearm can not be purchased on Cat H club licence in Australia.
The Detective Special, Fifth I






AUD $ 345
PRODUCT IS FOR SALE
CONDITION: PERFECT
LOCATION: QLD

6x42 scope with illuminated red Reticle
Comes with mounting plate. Reticle as per picture.
Scope base side mount sold with the scope can be fitted to: VEPR ,SAIGA, VEKTOR H-5 & all AK Clones.And a side mount base can be brought via the Internet to fit Nagant Bolt action rifles .





AUD $ 33
PRODUCT IS FOR SALE
CONDITION: NEW
LOCATION: QLD

| | |
| --- | --- |
| Adjustable cheek rest for Battlelink utility stock | |


AUD $ 145
PRODUCT IS FOR SALE
CONDITION: NEW
LOCATION: QLD

| | |
| --- | --- |
| The Battlelink Commercial Utility Stock is the evolution of battlefield technology. Manufactured using a specially developed Military Grade reinforced, super tough polyamide, and with advances in materials, this allows for an unsurpassed weight to strength ratio and results in a stock that is lighter and stronger than anything similar curr | |


Terms and Conditions | Contact Us
Website Design, Development, Hosting & SEO by Digital Dreams Pty Ltd