Search Results

AUD $ 135
PRODUCT IS FOR SALE
CONDITION: VERY GOOD
LOCATION: SA

USED complete conversion kit IN 45 ACP Caliber.
In very good condition.
The price includes shipping with in Australia only.





AUD $ 345
PRODUCT IS FOR SALE
CONDITION: PERFECT
LOCATION: QLD

6x42 scope with illuminated red Reticle
Comes with mounting plate. Reticle as per picture.
Scope base side mount sold with the scope can be fitted to: VEPR ,SAIGA, VEKTOR H-5 & all AK Clones.And a side mount base can be brought via the Internet to fit Nagant Bolt action rifles .





AUD $ 65
PRODUCT IS FOR SALE
CONDITION: NEW
LOCATION: QLD

| | |
| --- | --- |
| 7.62x54 Die set | |


| | |
| --- | --- |
| | AUD $ 150 |
211 once fired 300 Win Mag cases 118 Winchester and 93 Remington pick up Brisbane or post is extra

PH 0407174560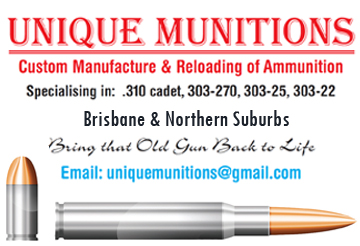 AUD $ 695
PRODUCT IS FOR SALE
CONDITION: VERY GOOD
LOCATION: QLD

When inquiring about this second hand firearm please send licence number and state which you are in.
Buyer Must have Cat H Post 1947 collectors licence or dealers license or security company licence to purchase this firearm.
This firearm can not be purchased on Cat H club licence in Australia.
The Detective Special, Fifth I





AUD $ 40
PRODUCT IS FOR SALE
CONDITION: NEW
LOCATION: QLD

38 Super +P Brass
This is new Brass sold in packs of 100
$40 per 100





AUD $ 10
PRODUCT IS FOR SALE
CONDITION: NEW
LOCATION: QLD

| | |
| --- | --- |
| Glock firing pin spring cups (set of two) | |



AUD $ 35
PRODUCT IS FOR SALE
CONDITION: NEW
LOCATION: QLD

Glock trigger & Trigger bar as per picture.
Gen 3





AUD $ 0
PRODUCT IS FOR SALE
CONDITION: NEW
LOCATION: QLD

All Glock parts in the picture are new parts .
Click on more info to full list.
List & Pricing is for per 1 unit
Front Sight & screw $$15
Rear Sight adjustable $49
Firing pin spacer sleeve $10
Firing pin spring cups $10 per set of 2
Firing pin channel liner $10
Trigger Housing Gen 4 9mm $25<





AUD $ 33
PRODUCT IS FOR SALE
CONDITION: NEW
LOCATION: QLD

| | |
| --- | --- |
| Adjustable cheek rest for Battlelink utility stock | |


Terms and Conditions | Contact Us
Website Design, Development, Hosting & SEO by Digital Dreams Pty Ltd